In House Engineering Team
Mack Boring's engineering department is here to round out the customer's complete premiere experience. From a project's infancy, our engineers can help determine the proper engine for all needs and outfit the complete engine package with options and features to ensure proper fit and ease of service. The team works closely with our production department to help streamline the build for repeat jobs and work with customer support to ensure help is always available if issues ever arise.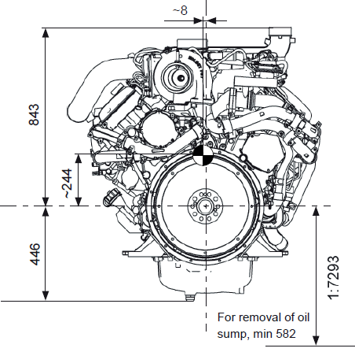 The team is versed in each engine line and able to provide:
Power curve alignment
Fuel/ DEF consumption estimates
Showcase factory offerings as well as custom options
Expected costs to maintain based on anticipated usage
Aid in the customer design process
The team is an integral part of the design process including:
Provide drawings of engines with 3D models, 2D drawings and overlays
Use factory specified guidelines to help customers design for successful applications
Design custom fabricated parts and pieces including engine suspension, intake or exhaust layout, guarding, and accessory brackets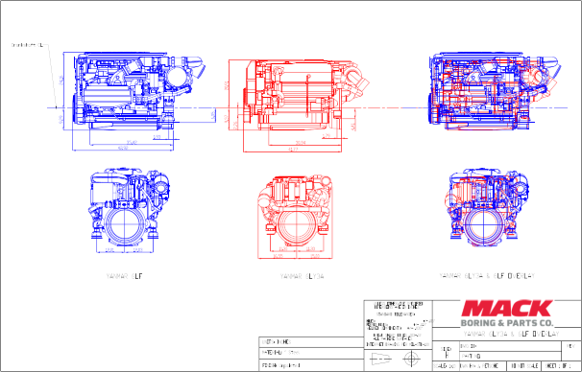 Aid in the production process
Our engineering team works on first article and prototype builds that allows them to:
Work internally with production to ensure documentation of all build processes and quality control checks
Create smooth transition when handing projects off for regular production
Application review performed by the engineering department including:
Perform factory required application reviews to ensure optimal engine life, efficiency, and warranty eligibility
Create review document to help familiarize technicians with a machine or vessel before they arrive on site to diagnose or service a machine/vessel
Provide support and expertise to resolve any issues in the field
We provide large scale products at a corporate level with the attention to detail, customization options and personal support of a small-scale mom-and-pop shop.
Large Scale
Utilizing factory parts as well as Mack Boring's custom designed parts offering, we produce large quantity orders to meet the exact need of each customer.


Small Scale
Most large commercial marine vessels get fully custom mounts specific for the needs or requirements of the boat and transmission along with custom plumbing, oil and draining solutions.
Find Your Nearest Factory Certified And Trained Dealer For Parts, Service & Support.